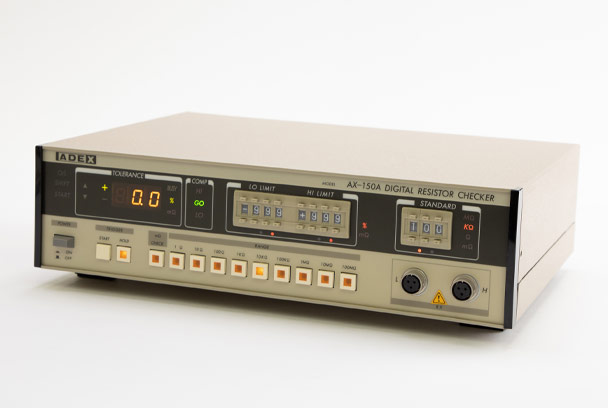 High Speed and High Accuracy Type Digital Resistance Checker
Best Suitable for sorting machines such as G,J,K and M
class,chip,melf,lead type resistor of sorting machine,
taping machine,and coating conveyor
●Fast measurement(FAST)
   :about 2.1msec.[60Hz]/2.5msec.[50Hz]
●Measuring range:0~999mΩ and 0.01Ω~99.9MΩ
●Display shows percentage indication by digital setting
   for a standard resistance value
●HI/GO/LO output installing with digital comparator
●Contact-check function (option) is selectable
   from premeasurement / postmeasurement/OFF
●Shift output and solenoid power source output (option)
●Measuring current/voltage-check are built-in as
   standard function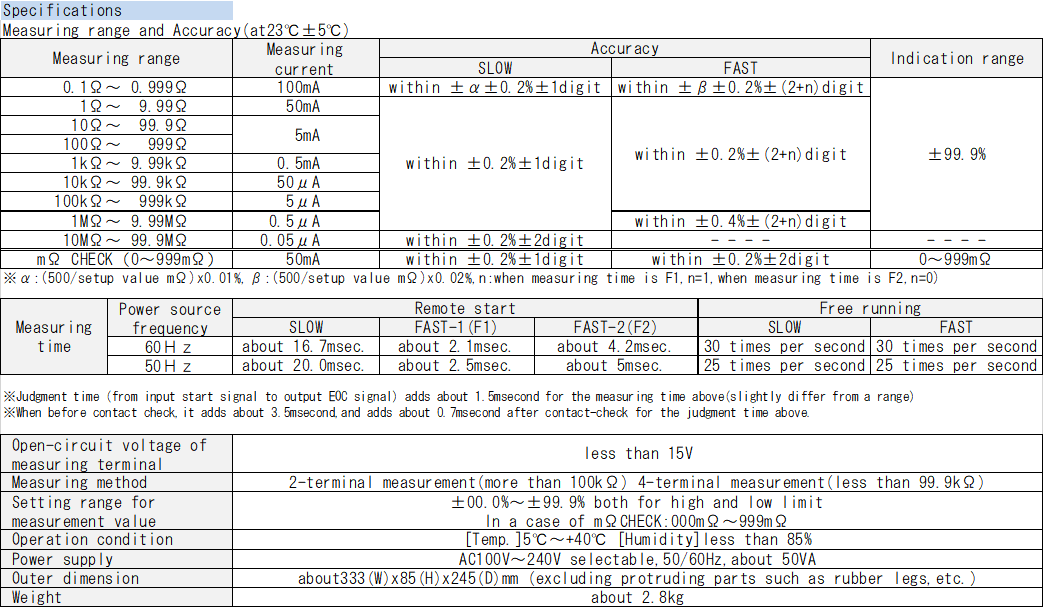 The Outline
AX-150A can measure a wide range of resistance from 1mΩ to 99.9MΩ,ultra fast speed,high accuracy. The unit can be shown the measured value as a digital indication, and also outputs a signal outside to judge HI/GO/LO. It can be switched a measuring speed,selectable from 2 types of FAST, a type of SLOW.
The unit can be equipped Contact-check function as an option: When measures 4 terminals, if either one occurs contact failure,judges a detect regardless of its measured value, and outputs failure signal outside and C.E (Contact-check error)signal all together.
The behavior of Contact-check is selectable from premeasurement / postmeasurement/OFF with a switch of a behind panel.
Also it sets [a checking circuit of an abnormal measuring current] has always watching a measurement current,outputs NG judgment when terminal trouble of contact condition occurred during measurement.
Either shift output-solenoid power supply or BCD date can be placed as an option.
Option
●Contact-check                ●Shift-output (Built-in,DC24V 1A/DC12V 2A solenoid power)
●BCD parallel out
*Either one interface can built-in the option above.