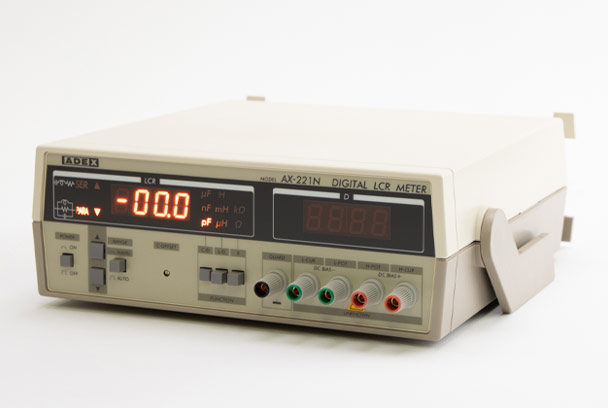 LCR Meter,with D-display
The function of auto range and auto mode are equipped
●Measuring renge
L・・・0.1μH~199.9H
C・・・0.1pF~1999μF
R・・・1mΩ~1999kΩ
D・・・0.001~1.999
●L,C,R 3½ digit,D 3½ digit,LED display
●Sampling time:10times/sec. approx.
(Auto range changeover time:1 step 100 milli second)
●L,C,R and D, analog voltage output(full scale DC2V)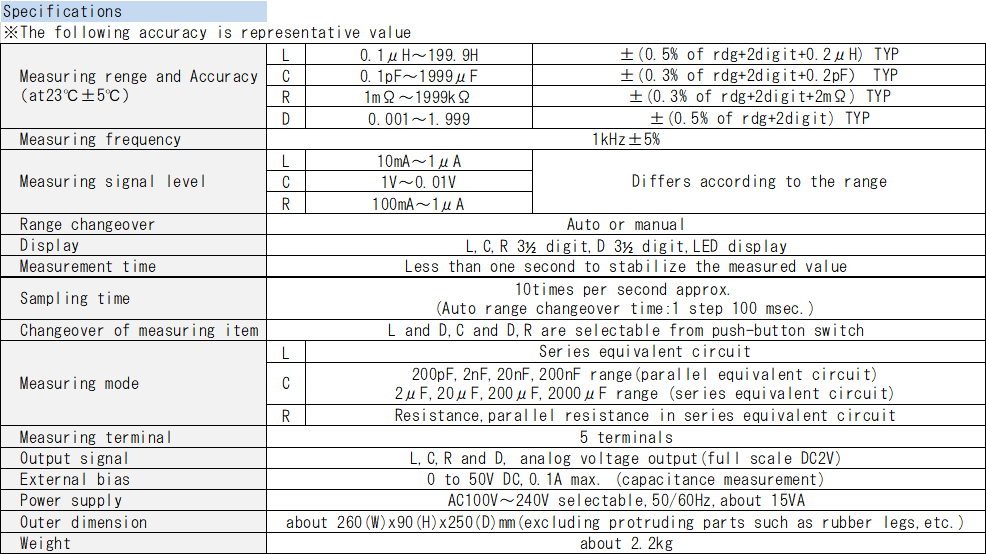 The Outline
 The Digital LCR Meter, Model AX-221N offers easy measurement of contact resistance of electric components such as a coil,condenser,resistor,switch,relay etc.,of inner resistance of a battery,of junction capacity of semiconductor and of any kind of elements. Auto range and auto mode functions select automatically an optimum range for the measuring object with unknown value.Also, manual range changeover is possible and thus unnecessary time for range changeover can be eliminated. The display unit displays LCR value in 3½ digit and in case of the measurement of L or C, the value of D(loss coefficient) is also displayed in 3½ digit. Analog voltage proportional to the measured value is output,too,for the connection to an analog recorder,analog comparator,etc.
Option
●BCD Parallel Data out